True Blue Inclusion now a 'Top Pick' at SXSW 2013 Interactive!
Learn More...

Tweets From
The Road!
Blog
The Farewell Post.
Posted on: 03/24/13
If someone would have told me last summer that when my boss Carlton turned to ask me, the wide-eyed intern, to Google Hugh Forrest, Director of SXSW Interactive, it would have led up to all of this, I would've said… " Really?!! True Blue Inclusion is keeping me on the Team that long?" ;)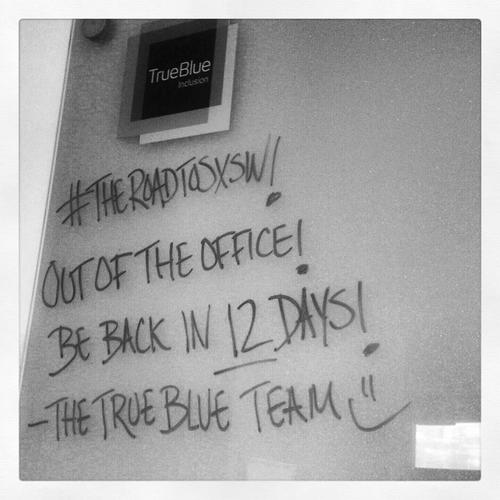 All joking aside, #TheRoadToSXSW in its purest essence was a Diversity Tour of America. Chris, DeAndra + I were tasked with the goal of finding the ingredients of the gumbo within the melting pot of this great nation. And as much as I can say that it was draining, difficult and overwhelming… it was fulfilling, beautiful and as my boss Catherine would say—magical!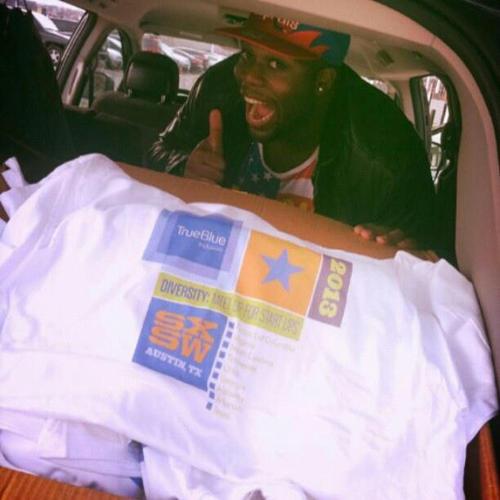 I left D.C. with the Team on a bleak Friday morning in a dark blue Dodge Minivan equipped with my 2 Colleagues, 3 PCs, 2 iPads, 3 Mobile Devices and a fist full of butterflies in the pit of my stomach… because with as much planning as we all did, I don't believe any of us had any idea of what we were getting ourselves into or the story we would capture! Even still, it was important for all of us to make a statement… if not for our livelihoods, for the idea that we could collectively facilitate a conversation bigger than all of us. And so there we were, 3 people with one agenda setting the highway ablaze with an uncontrived sense of belonging to this crazy idea that #DiversityMatters.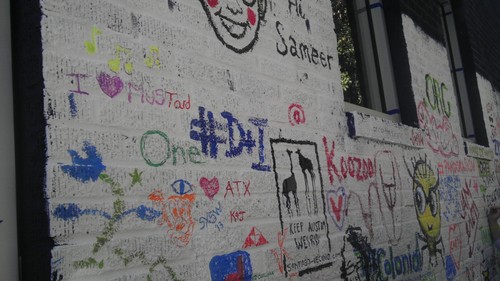 And then the strangest thing happened… with every stop we made, from Washington, D.C. to Ohio, from The Carolinas to Georgia, from 'BAMA to Tennessee, From Arkansas to Austin, Texas… we left a tiny blue fingerprint on the lives and cultures of the people who may not have been able to explain what Diversity meant but quickly understood when they saw the magic of us 3 as a collective and they, too, started to believe.

It's the hug of pure love from Mama Jubilee, a complete stranger that I had to have known in a past life, as she told us all to "Travel with Grace", it's the show of support from the Legendary Freedom Fighting Jones Family of Cincinnati, it's the alignment of the stars that saw us wander around downtown Charlotte and accidentally capture the story of a grieving community banding together to raise money on a non-business day at Snips Salon so that the recently deceased 3-year-old Maddie could have a proper headstone, it's the Androgynous individual in Atlanta who spends his nights in the underbelly of downtown taking in displaced members of the Trans community, it's our waiter at the Aloft Hotel lobby restaurant in Birmingham who saw hope in our journey after he recently lost his mother, it's the white bouncer in Memphis who happily talked about racial profiling in the music industry with us for nearly an hour without us even asking, it's the corporate executive at Wal-Mart who was raised to and still embraces people of color despite the bullying she endured as the only white girl in a public & predominately minority school, it's her right-hand man who humbly traveled to America from the far east with nothing more than just $20 and a dream, it's the students at the University of Arkansas who not only paid attention to our Diversity Lecture but sent messages of support via Twitter afterwards, it's the show of divine hospitality from two of the world's most revered Diversity practitioners, it's the 3 Chief Diversity Officers who put their name on the line to support our SXSW Diversity experiment, it's the technology giant that welcomed us to Austin with an amazing dinner at Max's Wine Dive & Bar, it's the 3 members of a diverse coalition dedicated to Latin voting rights that supported us in ways that we could never forget, it's the room full of young, diverse entrepreneurs who showed up for our Meet Up, it's the Director of SXSW Interactive who gave us a shot to be there, it's the ever-reliable PR Queen from Los Angeles who guided us, literally, every step of the way, it's the Founder of True Blue Inclusion who empowered us both emotionally and financially from the precipice, it's the online audience who spent hours sharing and leaving countless comments on our pictures, blog posts and subscribing to our YouTube channel that made our posts go viral, it's the 3 of us who despite various races, genders, sexual orientations, ages and nationalities created a life-long bond that extends beyond the highway and proves without a reasonable doubt that our mission was, in fact, successful.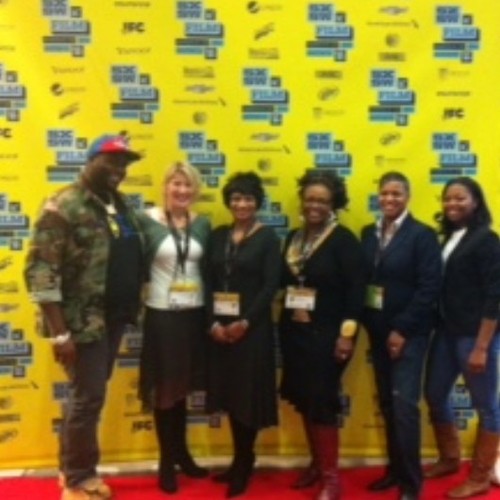 I thank each and every single one of you for sharing this moment in time with us and teaching a formerly wide-eyed intern that we are all capable of harboring a little pixie to do the unimaginable. It is because of you that we were able to make #Diversity a trend at this past year's SXSW Interactive Festival. You are my heroes.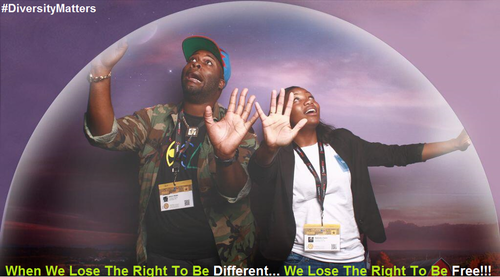 Traveling with Grace,
Kevin Webb, Social Media Strategist, True Blue Inclusion
By The Numbers: Chris' Final Blog Post!
Posted on: 03/22/13
After 13 days on the road, We are back home safely in DC! We traveled almost 5000 miles exactly. As much as True Blue Inclusion's The Road to SXSW was fun, enlightening, entertaining and the experience of a lifetime, it grueling, long, tiring and hard. But it was worth every second, and after rest and laundry,and with a better understanding of the undertaking, I would do it again. In a heartbeat!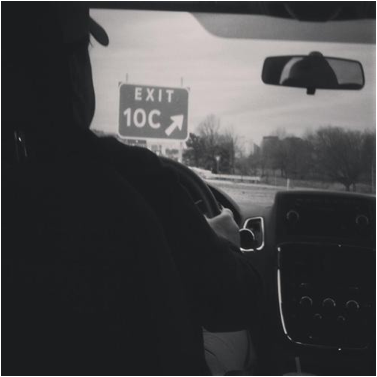 The Road to SXSW by the numbers:
13 days door to door
5000 miles
An average of 416 miles per day.
9 hotels, one stay at a ranch
16 different states some twice. 14 different cities. And we barely scratched the surface.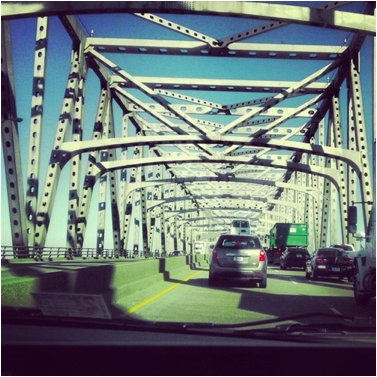 The things I have learned and reaffirmed: We live in a diverse country; however, asking people about diversity is not an easy question. There is no one view, there is no one question and there is no one answer about diversity. Until we are comfortable asking the question, we will struggle with the answer.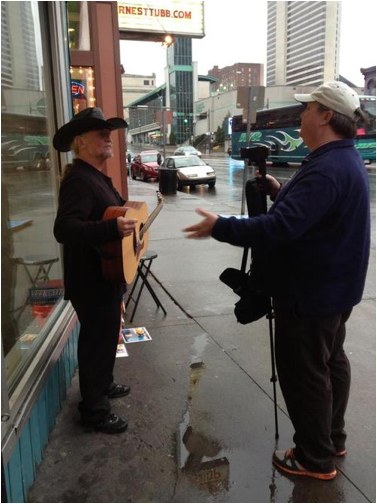 True Blue Inclusion's work around Diversity is about Opportunity—the cornerstone of Diversity and Inclusion.
TBI's clients are AMAZING!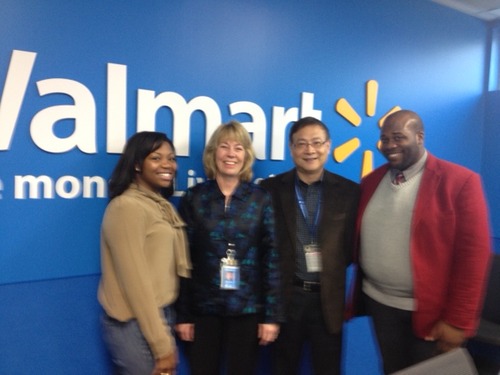 Food + Culture Go Hand in Hand.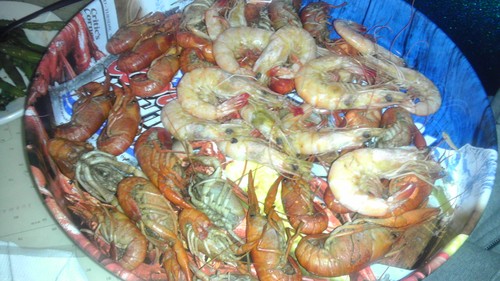 Other things…...
SXSW is so big and with so many people looking for and seeking attention. You need time to decide what you what to see and do before you get there. There are a lot of people waiting in lines. You can't explain SXSW unless you have seen it.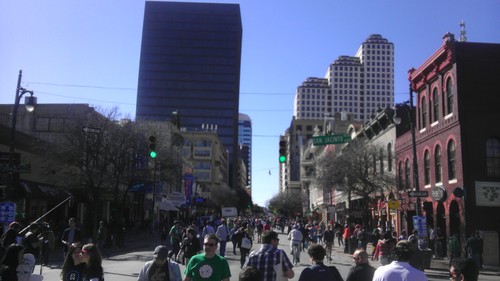 Free Hotel Breakfast is just that.
If you go to Memphis, you MUST HAVE the Apple Dumplings at the Blues City Cafe! A bartender told us it is TO DIE FOR… That was an understatement!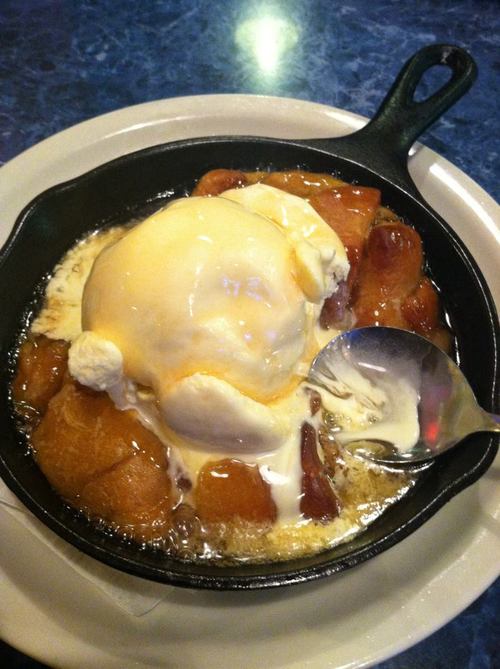 Pork is its own food group in Tennessee.
For something that city is known for, we found that few people from Cincinnati actually like and eat their Chili.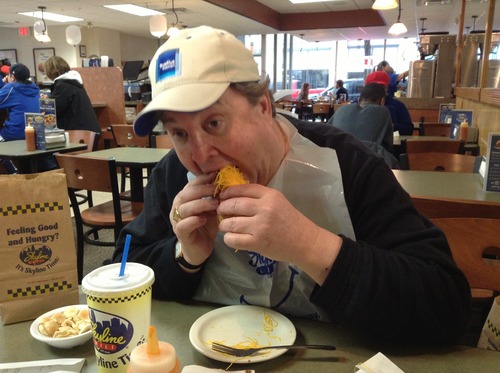 There are many things we saw and places we visited I want to go back to. I truly love this country. The more I experience, the more I want to experience more.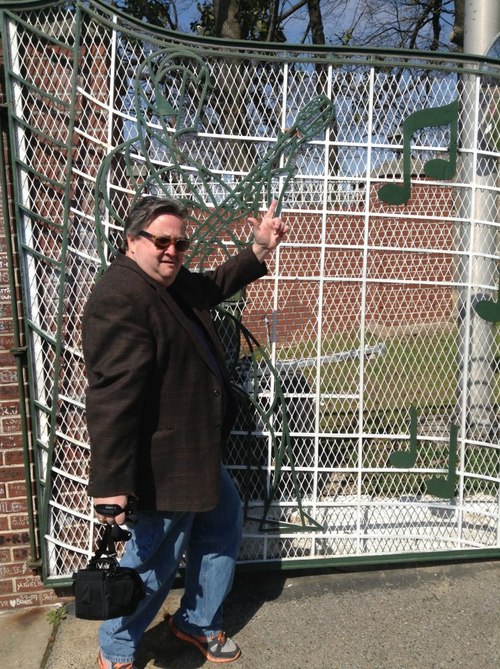 Until Next Time,
Christopher Bannon
Responsible Freedom.
Posted on: 03/3/13
Gravity is grounding… Even humbling. Just 3 days ago, the country wrapped up Black History Month, where the heroic achievements of Blacks in America are celebrated by all. While our story as Africans in America is far from peaceful or endearing, our story is one of triumph and tenacity—it's the beautiful story of unity amongst undeniable division.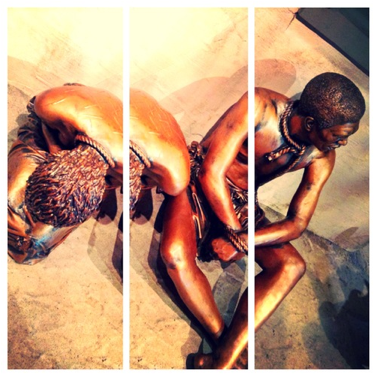 Moments after we settled and shot our "Good Morning Cincinnati" segment for our documentary, we began walking up to the second floor of the National Underground Railroad Freedom Center, we overheard remarks given by the Vice Mayor of Cincinnati, Roxanne Qualls, as she introduced Annie Ruth, the creative mind behind the DADA RAFIKI: SISTERS OF LEGACY exhibit.
Immediately, there was a roar of applause by women who were all distinctively different, yet their voices were unified to celebrate the unveiling of Ms. Ruth's artwork. DADA RAFIKI: SISTERS OF LEGACY is a celebration of women who have dedicated their efforts to uplifting the Cincinnati community. Unlike most people featured in historical museums, all of these women were still alive and many of them were in the room. The Exhibit Hall was full of positive energy and it was unshakably contagious.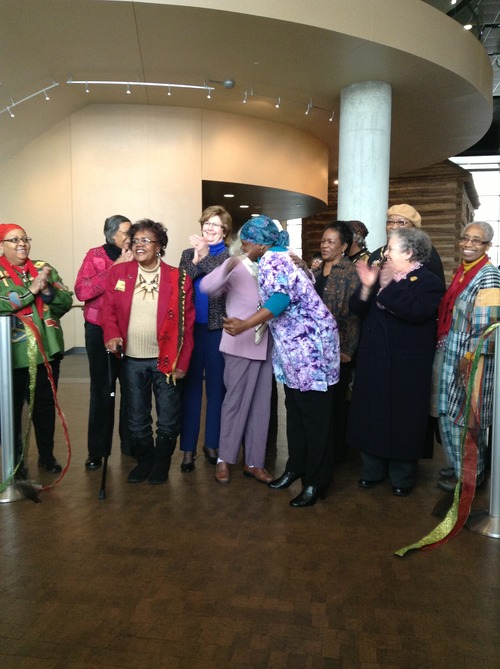 Following this experience was an interview with the Honorable Nathaniel R. Jones in the Freedom Center who shared Ohio's relationship with freedom and civil rights, along with his views on the Alabama Section 5 court case. It was absolutely humbling to hear the perspective of a man who has witnessed over 80 years of the victories and set backs of Diversity in America.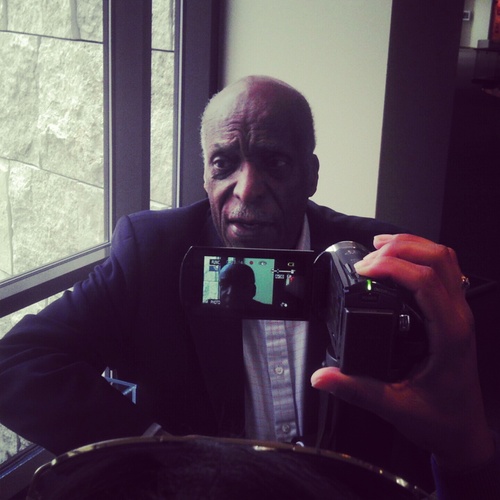 As the only Woman on #TheRoadToSXSW, there were two other exhibits that I gravitated to: WOMEN HOLD UP HALF THE SKY and INVISIBLE SLAVERY TODAY. After checking them out, I had mixed feelings and a troubled spirit. Because on one hand, I was hurt and on the other, I was humbled… yet again. For, it's 2013 and we, as a country and as a powerhouse amongst many nations, have a long way to go! But on the other hand, I was inspired and motivated by the endurance and courage of women around the world who are constantly being torn down and degraded simply because of their femininity.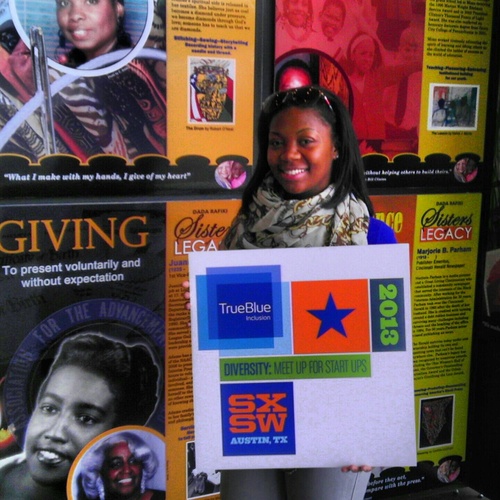 And it was at that very moment I was reminded that to whom much is given much is tested and expected. It is my responsibility to live in my freedom responsibly; However, it is also my duty to reach my hand back to bring others with me as I move in a positive direction. My elements of freedom were not granted simply because I was born but because others before me fought for my freedoms. In the words of Kurt, the sales associate at the Kentucky Best Buy location who helped us fix our Hot Spot WiFi issues, "we have to look out for each other…We have to take care of each other," plain and simple.
From The Road,
DeAndra
Behind The Scenes Of #TheRoadToSXSW: Chris' Blog #1!
Posted on: 03/3/13
It's Day 3 of #TheRoadToSXSW!
Today was North Carolina, South Carolina and Georgia.
It was a really fun day.
We woke up in Ashville, about three hours short of our intended destination. I-40 was stopped for about 90 minutes coming down the mountains west of Ashville due to an accident. I was beyond tired and stressed when we hit the Holiday Inn in Ashville in the middle of the night, looking for rest.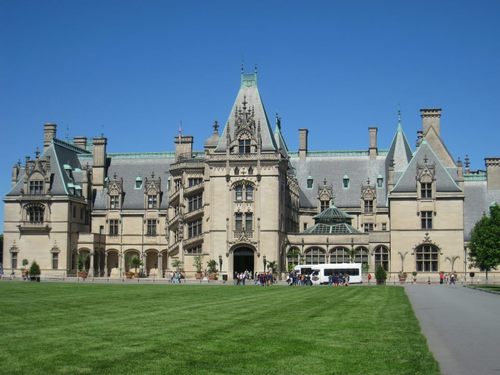 After a good night's rest, we headed out to see The Biltmore Estate, the largest privately owned house in the US, I hear. We just wanted to do a drive-by but to get close you had to pay $45 per head, It wasn't worth it as we had pressing business, potential interviews in Charlotte and Greenville SC. Looking at the timing early on, we needed to sacrifice one of your scheduled destinations… Greensboro took the hit.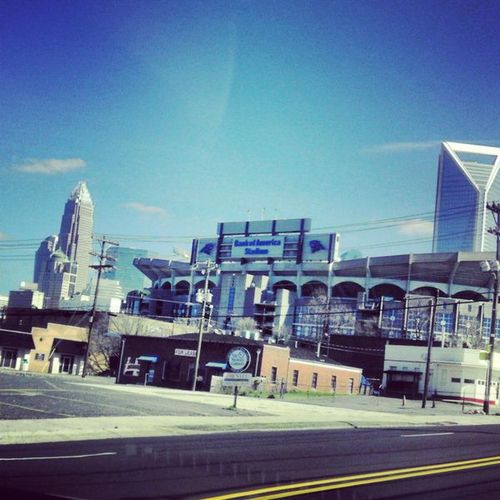 We finally got to Charlotte, (which made me think about our TBI friend Charlotte Hayes all afternoon, and how much fun she would have doing this trip). We met some nice people, went to a fundraiser at a salon who showed us that bigger is not better… better is better. (DeAndra got her hair styled for the cause) and then we headed to Atlanta and dinner at Gladys Knight's restaurant.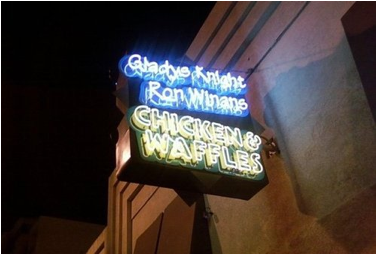 We thought we would have a busy day. We thought we had a lot in the hopper, but really nothing or no-one we had planned for happened. But we shot some of the best video so far and had lots of fun making it. We took the time to smell the roses and we had fun and did a great job telling stories. You could thank lots of things - the lunch at Cook Out (which based on the sign on the side of the road get me to stop normally), the conversation about music past and present, the visit to Gladys Knight's closed for the night restaurant, the sunshine, or whatever.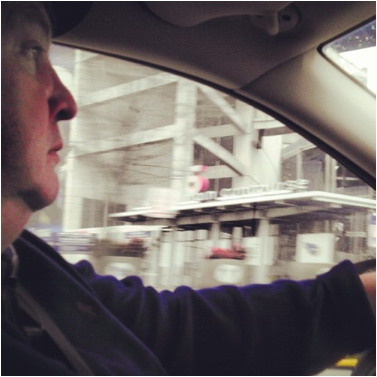 But I think what made today so much fun is the connection that DeAndra and Kevin and I are making. We laughed, we sang, we seat danced while we drove past the places we thought we would be stopping. It makes you think, no matter what you have planned, the surprises on either side of that spectrum bring us closer!
From The Road,
Chris
P.S. Check Out This Hilarious Clip Of The Team + I Singing "Midnight Train To Georgia" As We Crossed The Georgia State Line.
Bonus Content: Chris' Elevator Pitch.
Posted on: 03/7/13
I really was impressed with Memphis. It was a fun town. Great food, great music and I am in great company with Kevin and DeAndra.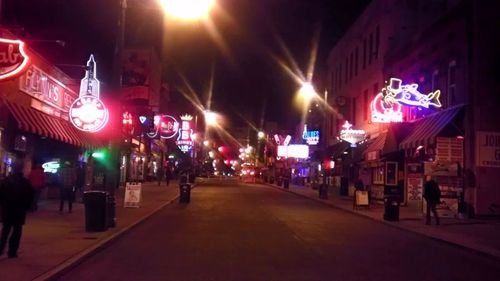 This morning, I decided I would give my much younger and much more energetic colleagues the opportunity to sleep in, while I went out exploring Memphis. My goal was the Sun Studio. After not being able to find it on my own with the directions from the hotel bell hop, I stopped at the Memphis visitor and convention board.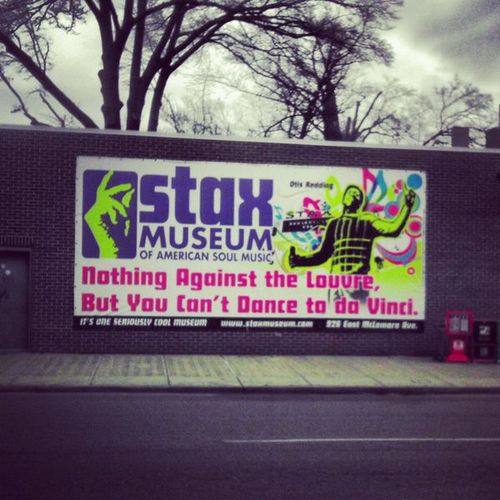 We had great luck getting information from the CVB in Charlotte, and I also secretly hoped to get someone on video talking about diversity and inclusion in Memphis. I had a nice chat with someone who suggested I go by the Chamber of Commerce around the corner. That I thought was a great idea. I could drop names and maybe get someone to talk about veterans issues.
I have never had a problem asking anybody anything. I have a sometimes annoying knack of asking too many questions, but I also am able to get people to talk. A lot. But this trip has shown me two things that people cringe at - questions about diversity and someone asking questions with a video camera.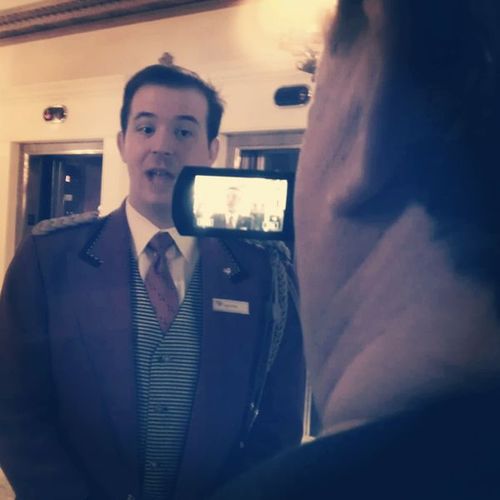 So the elevator pitch has to be really good.
We have had better luck once someone agrees to talk, lead with something' less confrontational than a diversity question. I have had to plead with people that we are not asking gotcha questions. But that doesn't work. So I say thank you and move on… More times than I wish to admit. America is not comfortable taking about diversity and inclusion. Less so in front of a camera.
Anyway back at the Chamber, in doing the elevator pitch to the very nice receptionist about our diversity project and journey. She volunteered, She thinks we have too much diversity sometimes. Just when I thought the journey and the story of diversity and inclusion was getting easier. I got smacked in the face with that.
I made it to Sun Studios which hadn't opened yet, met some lovely people who were also traveling to Austin for SXSW and I invited them to our meet-up.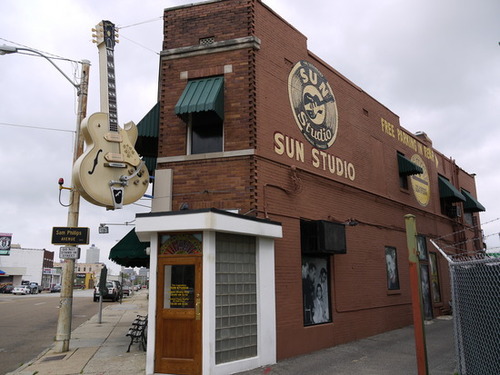 I then stopped at the Memphis Commercial Appeal, to see if someone was interested in talking about diversity. Over the phone on the receptionists desk, I asked but got the now familiar, speaking about diversity is too touchy of a subject to discuss without preparation. After I thanked the voice at the end of the line, the receptionist who heard the elevator pitch told me it was great we were talking about diversity. She then with a deep sigh told me the Klan was meeting in Memphis this weekend. Maybe the journey is not long enough and we're not stopping in enough towns and cities.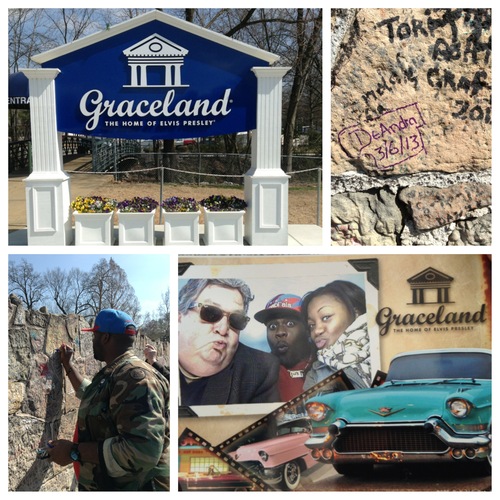 The road is a great educator. I am riding across the country with two wonderful people who are half my age. I have them listening to music that is older than them and they have introduced me to the greatest rap song ever!
Click Here To See Chris' Take On Ace Hood's Hit Song "Bugatti"!
From The Road,
Christopher Bannon
Rosanna Durruthy, to attend Diversity: Meet Up For Start Ups!
Posted From: Atlanta, GA on 03/04/13
Rosanna Durruthy, Chief Diversity Officer Of Cigna To Attend TBI's #SXSW "Diversity: Meet Up For Start Ups"!
Rosanna Durruthy is as sharp + as witty as they come! She brings with her decades of thought leadership & creating change in both large + small corporations, alike. We are absolutely over the moon to have her come down and add her unique brand of humor, excitement & common sense to the diversity conversation on the #SXSW stage!
Our #SXSW "Diversity in Startups" meet up is happening on 3/9/12 @ the Driskill Hotel in Austin, TX @ 12:30 pm! With Rosanna Durruthy, the previously announced Rosalind Hudnell & many more special guests to be announced. You will not want to miss out on the action! Stay tuned here for even more surprises to come on #theroadtosxsw!
Get familiar with one of the leading latina faces of diversity!
Rosalind Hudnell, to attend Diversity: Meet Up For Start Ups!
Posted From: Atlanta, GA on 03/04/13
Rosalind Hudnell, Chief Diversity Officer Of Intel To Attend TBI's #SXSW "Diversity: Meet Up For Start Ups"!
We are proud to announce that the first special guest of our "Diversity: Meet Up for Start-Ups" is none other than Rosalind Hudnell, Chief Diversity Officer of Intel & one of Forbes Magazine's 2012 most powerful women changing the world through STEM! We are absolutely elated to have her attend our meet up at this year's #SXSW Interactive festival! Check back here tomorrow to find out who else will be joining us during #theroadtosxsw!
Refamiliarize Yourself With One Of The Most Powerful Women In The World
Wendy Lewis to attend Diversity: Meet Up For Start Ups!
Posted From: Cincinatti, OH on 03/03/13
Wendy Lewis, Chief Diversity Officer Of Major League Baseball, To Attend TBI's #SXSW "Diversity: Meet Up For Start Ups"!
As One Of The 25 Most Influential Women In Business, Wendy Lewis Has Spent Over 30 Years In The Diversity World! In Her 25 Years At Major League Baseball, She Is Responsible For Transforming America's Favorite Pastime Into A True Reflection Of The Melting Pot That This Country Has Always Represented. With That Said, We Cannot Wait To Have Her At Our Meet Up To Add Her Coveted Wisdom + Innovation To The Diversity In Start Ups Conversation.
Check Out Wendy's All-Star Stats
Excited, Yet? Well, Join Us @ Our #SXSW "Diversity: Meet Up For Start Ups" On Saturday, March 9th, 2013 In Austin, Texas @ The Driskill Hotel @ 12:30pm! Register for a Gold/Platinum badge to attend!
And so it begins…
Posted From: Washington, DC on 03/02/13
In 1992, working on the Clinton Presidential Campaign, I can remember sitting in long meetings with a big map of the United States talking to an Advance man in a car. He told us what he had seen along the way that day and where he thought we should have Then-Governor Bill Clinton's bus stop as it made its way through any given state. We had no Instagram, no Skype, no Twitter, no cell phones—we only had our imagination and the faith in the vision of our guy on the ground.
And it was magical.
The bus and the places it stopped along the way were all magical. There were real people, in real places, becoming part of something bigger than they could have ever imagined. And for the first time, for many of them, they had a voice. They mattered in selecting the next President of the United States.
Twenty years later, as we were sitting in our office thinking about how lucky we were to be going to SXSW, trying to find a way to share how important Diversity is to our future—our country's future. We thought, "How can we get the attention of all of the world's most innovative, creative, imaginative minds when we had to compete for their attention with rock bands and movie stars?"
And it just became obvious.
We would let the people tell the story of Diversity. What could be more powerful or more compelling than telling the narrative of why diversity matters than hearing it from those it matters to the most, "the people".
And so it begins, today, #TheRoadToSXSW.
Tune in to feel the magic from Washington, DC to the SXSW stage in Austin, TX and beyond.
Yours,
Catherine Smith
Founder & Managing Partner,
True Blue Inclusion
Here We Go!
Posted From: Washington, DC on 02/28/2013
We are excited to announce that this year's SWSX Interactive Conference reached out and tapped True Blue Inclusion to participate. We're one of a select group in the Meet Up activity. It's a big deal! Not only will be rubbing elbows with the next generation of movers and shakers, but we will be advising them on diversity and inclusion at a critical time — early in their business plan's development or growth. More Excitement to Come... Stay Tuned!
Contest!
Win an iPad Mini!
On February 20, 2013 True Blue Inclusion launched a two-week contest asking students to create a YouTube video sharing "why diversity matters" to them. The winner will receive a 16GB IPad Mini plus an Apple Care warranty. Entries must be uploaded to the official contest site by 12 am (midnight, EST) on Thursday, March 7.
Does diversity matter? Does being different make a difference? True Blue Inclusion is interested in what students across the country think about diversity in America. That's why True Blue, an organization for diversity professionals, is asking students to visually express their opinions. Says Catherine Smith, Managing Partner of True Blue, "We want students to combine their love of video, have fun and create unique YouTube productions on 'why diversity matters'. Maybe it's based on a time when they felt different or excluded, or when they have gone shopping and saw only a few products on the shelf for their particular needs. We want students to share their experiences. Tell us why diversity matters to you!
Entrants in the True Blue Inclusion #DiversityMatters video contest could win an iPad Mini. Videos will be judged on content and how many views the video has.
---
The contest has concluded. Thanks to all who participated!